Brisbane's Laptop Screen Repair Experts Show You How To Repair Your Laptop Screen 
So you've just stepped on your laptop screen and you're really regretting running through the lounge room now. What you see when you first turn on your laptop is an ugly, horizontally apposed crack running from the left to the right of the laptop screen. You've decided that you feel up to the task of taking on a laptop screen repair in your home, but you first felt like you needed to go online and read a little more about the simple, yet detailed process you are about to endure.
Read on and we'll walk you through every step of the process for replacing your laptop screen. Firstly, if you feel you are uncomfortable with this task, please contact a professional laptop repairs technician. We not only remove malware and viruses from your computer or diagnose a computer fault, but, If you live in Brisbane, Computer Fixperts can offer laptop screen repairs Brisbane city wide! As well as other locations.
*Disclaimer: By reading this guide, Computer Fixperts are not at all liable for any damage that may occur when repairing your laptop screen when following this set out laptop screen repair guide. This guide is purely just a quick step by step process of repairing a laptop screen. There may be certain steps missing in this guide which are unique to your particular laptop screen model. You should always seek professional advice or services when taking out one of these repairs.*
Step 1: Assessing the damage to the laptop screen:
Take a look at the laptop and confirm that what you are dealing with is a broken laptop screen. This is pretty easy to identify, as basically if there is any distortion on the laptop screen, you most likely need to have the laptop lcd panel replaced. Usually you'll see a mixture of distorted colours including blue, purple and black with white surrounding the colours. Refer to the picture below showing an example of a broken laptop screen: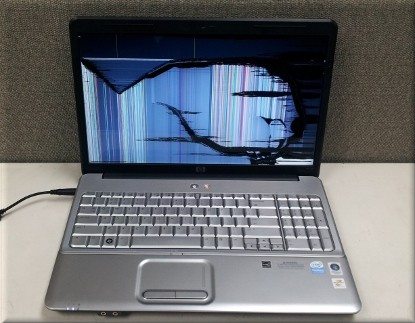 Step 2: Determining what your laptop screen model number is:
Some people really struggle with finding the correct model number of their laptop screen. Usually a customer will quote what seems to be the laptop model number on the top of the computer. This is usually just a series number. For example: Acer Aspire. If you would be trying to find the exact model number of an Acer Aspire laptop, you would in most cases need to flip the laptop upside down and assess the details printed. Sometimes, especially when it comes to HP laptops, you'll need to first remove the laptop battery and look for a model number behind where the laptop battery is located.
See an example of an Acer Aspire laptop model number below:
You might also find this article on how to locate a laptop model number helpful.
Step 3: Checking Laptop LCD Screen parts availability:
Once you have correctly located the laptop's model number, you will now be able to perform a search for the compatible laptop LCD screen. There are many ways you can go about doing this. There are laptop screen suppliers which are quite helpful for looking up laptop screen stock. They deliver globally and you will receive your new laptop screen within days.
Things to take in to account when ordering a replacement LCD screen for your laptop are:
The screen MUST be the same resolution as your existing laptop LCD screen
The replacement LCD panel MUST have the SAME backlight type. (ie. CCFL or LED)
You MUST make sure that the connectors are identical. (30Pin vs 40 Pin)
Ensure that your new screen has an adequate warranty return policy even if you are purchasing from an overseas supplier such as the one recommended above.
Step 4: Inspecting your new laptop LCD screen before installing:
This step is important. The last thing you want to do before you commit the time to removing and installing the new screen is to find out after all that hard work that you have damage on your new part.  Usually the replacement laptop LCD screen will be adequately wrapped to prevent damage, but it isn't unusual to find damaged parts from transit.
Step 5: Ensure you have the right tools for the laptop screen repair
What you'll need to do first is make sure you have the correct tools for the job. What you'll need to remove and install the new laptop screen are as follows:
A Phillips-head precision screw driver (magnetised if possible)
A thin pry tool (spudger)
Sticky tape to secure pin connection on rear of panel (just for extra safety)
Step 6: Removing original laptop screen panel and installing new LCD:
Now, since laptops are not all the same, we are going to be working this example off a Toshiba Satellite L750 Screen repair.
Remove the rubber covers from your Toshiba Satellite L750 laptop screen bezel. This is where the first screws are located that we need to remove.
Using your phillips head screwdriver, carefully remove the two screws on the bottom left and right of the bezel. Put these screws aside and label them so you don't get the screws mixed up.
Using your pry tool, carefully pry the laptop screen bezel off the Tosbiba Satellite L750. You'll need to take care when doing this, as the bezel has clips that are quit delicate and can easily be broken. 
Remove the screws from the side of the laptop LCD panel. On our model, there are 3 screws on either side that need to be removed. Once removed, please set aside and label the screws appropriately.
Be sure to handle the hinges on both left and right sides of the laptop carefully, as they are delicate parts
Place the LCD panel down and carefully peel of the factory sticky table and proceed to carefully unplug the 40 PIN LCD panel connector from the panel. The 40 Pin connector is usually located on the left side of the screen. Please take your time with this step as it is quite is to do damage to the laptop LCD flex cable and that part is sometimes hard to come by.
Once the old panel is removed, you are now able to install the new panel.
Reconnect the 40 PIN flex cable to the new LCD and place the screen upwards in position.
This step is optional, however I'd recommend it. Plug the power in to the laptop and turn it on. This will allow us to test if the screen is working correctly before going to all the effort of screwing the laptop screen together.
Once the flex cable is reconnected, you may proceed to screw all the screws back in place and pop the laptop screen bezel back in position. Be careful with this step remember, as you don't want to damage any of the delicate clips.
That's it! You have successfully changed a laptop screen!
Remember, Computer Fixperts SPECIALISE in laptop screen repairs, and can come to you anywhere in Brisbane, Ipswich, Logan & Northlakes at your home or office.